Mitsuba's "Infiniti™" Automatic Powder Coating Guns
Corona Electrostatic Guns in Automatic Version
"Infiniti™" Automatic Powder Coating Guns
Mitsuba's "Infiniti™" corona electrostatic guns is available as an automatic system. Take your powder coating operation to the next level with Mitsuba's automatic powder coating guns. Get a Perfect finish with consistent uniform film thickness.
Automatic Powder Coating Guns
Summary of Benefits:
Get a Perfect finish with consistent uniform film thickness.
Guaranteed 100 KV at Gun Tip for the entire life of the gun. No droppage in high voltage, assures higher coating speed and higher powder coverage
100 KV gun with Patented Infiniti™ technology (US Patent No. 5678770) protects your gun against any failure. NO BREAKDOWN! NO EXPENSIVE REPAIRS!
Control panel with Smart Tracker performance monitor housed in a DIN rack. The Smart Tracker diagnosing system gives complete control in your hands. It locates any problem instantly so you can rectify the problem yourself. Minimize downtime and external dependence.
Automatic Air Cleaning facility in the gun for higher efficiency and smooth coating.
Centralized powder feed Hopper with powder pumps.
Perfectly synchronized with conveyor, reciprocator, Spray Police, and powder spray booth.
Complete your automatic solution with Reciprocator, Oscillator, and Spray Police.
The Gun has a patented replaceable Power Cartridge (Mitsuba US patent No. 5678770). In the unlikely event of a malfunction all you do is…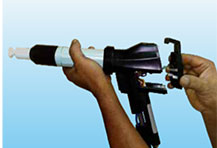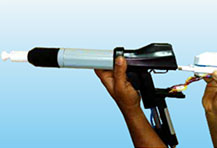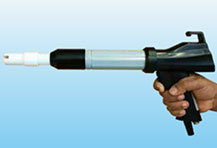 How does the Infiniti™ Technology work?

Download PDF
Your Insurance against high voltage failure saving your Time & Money.
Frequently Asked Questions