Move to the Next Level of Powder Coating Finish With Mitsuba's Patented RealTimeSiever
Sieve while you spray- A revolutionary online sieving technology
RealTimeSiever – Sieve While You Spray
Misuba's RealTimeSiever, sieves the powder in real time, when you are spraying.
A conventional siever will first sieve the powder and send it to the powder hopper for the spray through powder spray gun. While Real Time Sieving system is inserted in the powder hopper, and a patented compact siever positioned at the bottom of the system will sieve the powder and feed the sieved powder to the powder pump fixed at the another end of the system for the spray through spray gun.
RealTimeSiever
Summary of Benefits:
Substantially improves the finish. As RealTimeSiever produces a cloud with distinct powder particles which lead to a consistently uniform finish.
Save Space-Eliminate the need for a separate sieving system.
Save Powder &Time- Ability to sieve powder while spraying, reduces the powder wastage while saving time.
Quick Colur change- The pump, hose & gun can be cleaned at the press of a button.
SAVE TIME, SAVE MONEY, SAVE EFFORT WITH MITSUBA's RealTimeSiever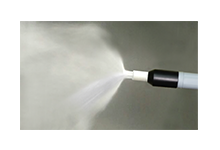 NORMAL GUN WITHOUT SIEVING - MILD STREAKING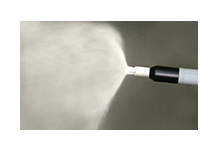 NORMAL GUN WITH EXTERNAL SIEVED POWDER - ALTERED CLOUD PATTERN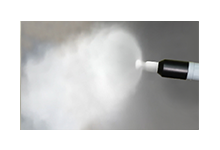 GUN WITH RealTimeSiever- CONSISTENT UNIFORM PATTERN
Frequently Asked Questions